We've only been in our home for 2 weeks and we've already tackled one major project! The kitchen in the upstairs apartment was a huge eye sore, with a huge mural as the first thing you see walking in. I was set on this being our first project because I knew this would be a challenge in getting a tenant in there. (However, I was wrong and we ended up having so many calls with the kitchen as is!) I'm a huge
HGTV Property Brothers
fan, and they always say, invest in your property and it will pay off! Not only in the long run of maintaining the property, but in the search for a qualified tenant.
So here is the before ...
The first thing we did was shop around looking for a new floor. 

We wanted something durable, classy, and versatile, so we took ourselves to Home Depot, Lowes, and
Grossmans Bargain Outlet
. Between all 3 stores, we scored some major deals at
Bargain Outlet
. Prices are lower there (with the same quality of products) and because we're registered landlords. We ended up buying a laminate floating wood floor and we couldn't be any happier with the end result. The whole process took about 4 hours to install, with the help of a family member who has worked with this product before. Now Evan and I know what we're doing in case we need to do it again!
And here is the new floor...
Isn't the floor gorgeous? Not too dark, and not too light. I love the texture, and I wish I had this floor in my new office! :-)
The next step was to decide on a paint color. I'm not a fan of dark colors, I prefer lighter colors so the rooms seem more open and bright. Plus, it's always easier to decorate when the walls are versatile. So we looked through hundreds of paint chips (not exaggerating) from
Sherwin Williams
, and we decided upon a warm shade of white called
Aesthetic White
. Again, we couldn't be happier!
I think the hardest part of this project was deciding on the base moulding. There are so many different designs and thicknesses, but once again, I think we picked just the right one that we found at
Lowes
.
And here is the after photo of our kitchen reno.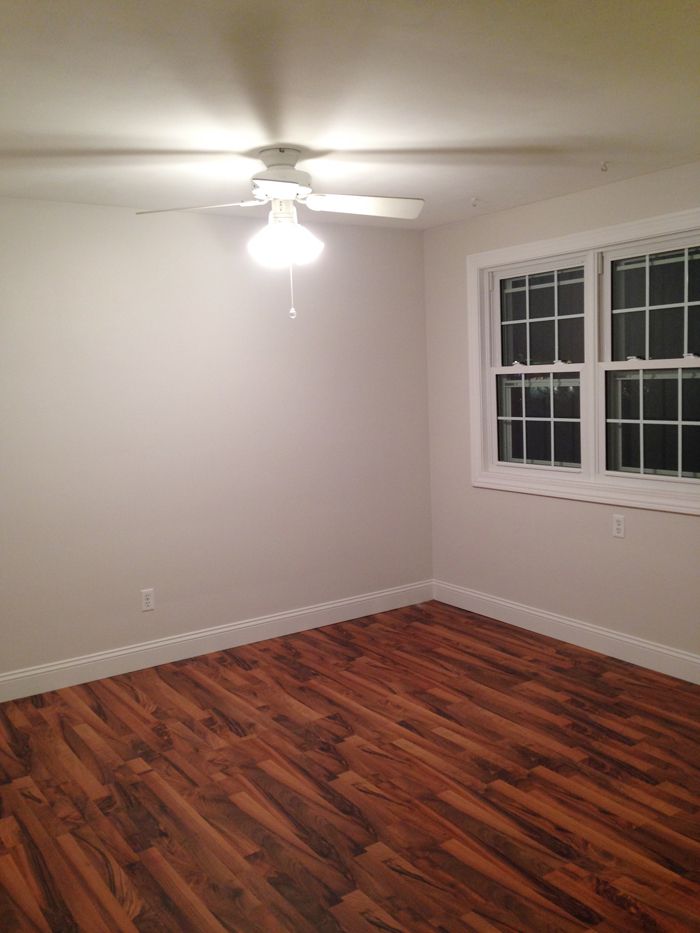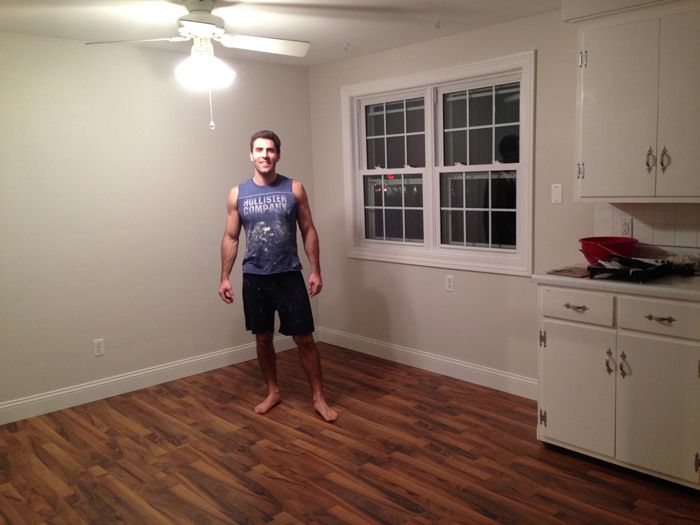 It's amazing what new floor, paint and base moulding can do! The kitchen still needs some upgrades but right now it looks a heck of a lot better than it did! We plan on putting new countertops in, and upgrading the hardware on the cabinets, but we'll focus on that in due time.
So that was our first project! Evan is pumped to tackle more, so now we'll shift gears and focus on making our home feel a little bit more like "us." Stay tuned... :-)